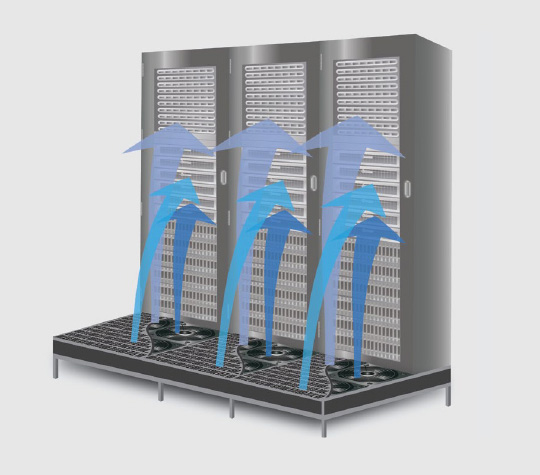 Hot and Cold Aisle Containment Systems: How They Work and Why They Are So Important To Modern Data Centers
For many businesses, the heart of their technical operation is the server room. This room houses all the critical data for the organization. Protecting this infrastructure is essential to the functioning of your business, which is why aisle containment is so crucial.
What Is Hot and Cold Aisle Containment?
Hot aisle containment (HAC) and cold aisle containment (CAC) are the most efficient ways of preventing your servers from overheating and these systems are currently being used in data centers all around the world. Computer servers will generate much heat when they are operating. If no action is taken the servers can quickly overheat. As we'll discuss, this can cause extensive damage to your servers. Aisle containment will prevent this from happening. It works by creating a physical barrier between the hot air produced by the servers and the cold air produced by the air conditioning unit. The hot air is taken out of the building by an exhaust fan. The cold air is sent to the servers, keeping them cool. Now that we know a little more about what aisle containment is, let's look at how implementing this can benefit your business.
Benefits of Hot and Cold Aisle Containment
If you decide not to do anything to cool your servers, the effects can be devastating. First, the servers will likely overheat. Overheating can lead to the data stored on them being destroyed or degraded. Losing data can cause knock-on effects that will weaken the entire network system. Additionally, if the servers are left uncooled, they can produce heat that may affect human health, at the least, operator comfort.
It's important to note that servers and other hardware can run unscathed at much higher temperatures than people can handle, so 'cooling' is a relative term. And the air isn't always cooled but rather expelled from the data center altogether while cooler air is produced in it's place. Depending on the scenario, this method may be more energy-efficient than trying to cool the hot air itself.
Another benefit of aisle containment is that it will help your servers perform at their optimal levels. Servers can be costly, so you want to make sure that you are getting the most out of them. Also, if the servers are too hot, they will have shorter life spans. Shortened life spans will cost your business money in the long and short terms as you will always need to be servicing or replacing servers. Also, having to keep getting new servers established will become a burden on your IT department as it's not just as simple as turning them on. Data needs to be moved from old servers to new ones without causing client downtime and without an IT specialist monitoring the entire process, essentially wasting man hours as a result. Compared to these negative impacts, installing a system to cool your servers is your most affordable option, at least in the long-term. However, what's the best way of doing this?
You might decide to use a system to cool the entire server room. However, this isn't very efficient compared to the either type of containment. Besides, aisle containment will produce a higher cooling capacity. Therefore, aisle containment has lower operating costs and will cost you less over the long term than cooling the entire server room. This system can reduce your energy costs by 40 percent. Now that we know a little more about how containing your aisles can benefit your business let's look at the type of systems available on the market.
Types of Hot and Cold Aisle Containment Systems
There are many different types of systems available on the market, depending on your needs. However, there are generally three different types of aisle containment. These are:
• Single Row
• Entire Server Room
Each of these options has different pros and cons. For example, making the whole server room more productive is going to be more cost-effective for a large company, with multiple servers. However, for a small company that only has three or four servers, this may be less cost-effective than a single row system. Another example is how a self-supported system might make sense for a company with limited space, as this system doesn't need to be attached to the ceiling walls. Now that you know a little more about the different options available on the market let's take a brief look at some of the various features each product offers.
Different Features of Aisle Containment Systems
When deciding what type of system to install for your business, there are various features you can use to customize the design to suit your needs. These include:
Each of these features will allow you to customize the system, so you are sure it will suit your needs. To give you an example let's look at how changing the ceiling panels may change the aisle containment system. Fixed ceiling panels can help control the airflow. They are also transparent, meaning you won't need to light inside the server room. They are also versatile to mount, which works well for companies with limited space available.
In contrast, you might decide to purchase a thermal drop panel. These are low-cost and lightweight. Furthermore, in case of a fire, the panels detect the heat and drop away, allowing the sprinklers to control the flames. Finally, you might opt for a magnetic release panel, which will fall apart if they detect either the heat or smoke of a fire. As this example shows, choosing which ceiling panel to purchase can have an impact on the system. The right ceiling panel ensures that you will be able to customize the system you install to meet your needs.
One of the most critical parts of your business is your servers. They will control data and affect how your whole system performs. As we discussed, not taking care of them can cause nightmares for the IT department and cost you money. One of the best ways to protect your servers from overheating is by installing a hot or cold aisle containment system. There are plenty of ways you can customize either system, so that it suits your needs. So, if you are interested in how an aisle containment system can benefit your business contact, Cool Shield, today, we will guide you through the process, from getting a quote to choosing the best system for your needs. They'll even install it and make sure that it works.