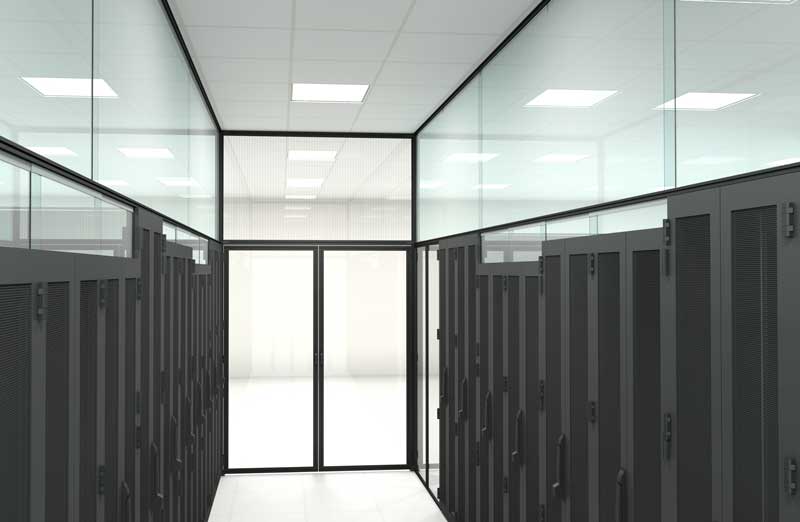 Cold Aisle Containment: The Best Option?
You probably know that data and control centers have to be temperature controlled. But how do they do that? Cold Aisle Containment has to do with aisle containment, or a temperature-controlled layout that impacts servers.
There are two kinds of aisle containment, but we're going to look at Cold Aisle Containment.
What Is Cold Aisle Containment?
Cold Aisle Containment, also referred to as CAC, is a system that isolates a cooled air supply from Computer Room Air Conditioning units (CRAC) adjacent to the air intake of critical equipment. What happens is that CAC alleviates hot server air exhaust or stress on the equipment. As a result, CAC helps maintain a consistent, optimal temperature to help make the servers work smoothly and efficiently.
Cold Aisle Containment Are The Opposite Of Cold
So naturally, with Cold Aisle Containment, you may assume that it's chilly and cool, like heading to the cineplex to beat the heat on a hot summer day. But actually, it's quite the opposite.
The hot air isn't completely gone in a CAC. Something that CAC does is block off the cold aisle and allow the remaining data center to become a hot air chamber. On the reverse, Hot Aisle Containment (HAC) does the opposite: It isolates the hot aisle and allows the remaining data center to be a cold air chamber.
Qualities Of A CAC Unit:
• Perimeter cooling units
• Raised floor
• Enclosing tops and ends of cooling aisles
So while Cold Aisle Containment denotes cooler air, it's actually pronounced with heat. High temperatures in the hot aisle cause the un-contained area to reach the same temperatures. So workers in cold aisle should prepare for higher temperatures, which don't indicate that there's a breakdown, but that everything is working properly. With CAC units, the expectation should be that higher temperatures are normal.
Because of the warmer environment, some arrangements will need to be made for the non-racked IT equipment like tape libraries and mini-frames, which will need custom ducting in order to function properly. Things like electrical outlets, lighting, and fire suppression will also need to be looked at closely to make sure they won't be affected by the higher temperatures.
CAC Is Easier To Implement Than HAC
In order to arrange a CAC, you need one thing. As long as there is overhead or underfloor air supply, you are good to go.
With HAC, you need:
• Unobstructed drop ceiling return plenum at least 24" high
• Top return CRAC/CRAH units with vertical extensions to drop ceiling
• Variable speed fans on cooling units
• Fully sealed cabinets with blanking panels, floor covers, and no gaps between cabinets
For CAC, the most common approach to implementation is using horizontal panels across the top of the cabinets. There are a few kinds of panels to consider:
• Clear panels that allow high light transmission
• Melt away panels allow panels to fall prior to fire suppression release
• Vertical panels work well if ceilings are too high and fire suppression is available in hot and cold aisles
• Self-supported containment with partial height panels prevent most re-circulation over the top of server cabinets
CAC Is Cost-Effective And Energy-Efficient
Not only is CAC beneficial in making data centers and control rooms work, but they are also cost-efficient. A rule of thumb is for every 1 degree of increase in set point, there will be a 3 to 4% decrease in cooling costs.
While every data center and site will be different according to cooling infrastructure, rack density, and other factors, when cold aisle containment is properly installed, customers can expect 20 to 50% reduction in cooling costs. If the cooling systems feature a good return air path and variable speed fans, one should expect maximum efficiency.
In addition to saving money, CAC also is more energy-efficient. Many data centers have reported reduced energy consumption of up to 40% after they started using Cold Aisle Containment.
Make The Switch To Cold Aisle Containment
Data centers and server use are on the rise, which means the need for cooling systems are on the rise, too. When it comes to protecting your data and servers, it's important to stay up-to-date on new technologies and know what a data center needs to function at full capacity. Cold Aisle Containment solutions may be what your control room needs to stay efficient and effective. They are easier to implement than other solutions and not only allow your organization to run smoothly, but they can also save you money and reduce energy consumption.
About Cool Shield
The Cool Shield Cold Aisle Containment system is the most highly configurable solution in the industry. Since Cool Shield knows every data center is unique, it takes hundreds of standard components to customize a solution for any project. Cool Shield helps every site get the most out of its cooling infrastructure.